Art, Literature, TV & Film
We have some famous connections in Malhamdale.....
William Wordsworth, James Ward, Thomas Gray, John Ruskin, J M W Turner, J R R Tolkien, John Piper, Charles Kingsley (The Water Babies), Bill Bryson, Etc... If you know any other malhamdale related art and literature, Poetry, famous visitors, film locations, etc. let me know...
Malhamdale has been the inspiration and location for various books, TV shows and Films over the years including ITV's The Dales, Harry Potter and the Deathly Hallows, Lad - A Yorkshire Story, Inspration for Tolkeins Helm's Deep, Victoria Wood Comedy, Monty Pythons The Holy Grail, Jim Henson's The Dark Crystal, Slipstream produced by Gary Kurtz of Star Wars fame, Bette Davis in Another Man's Poison, Charles Kingsley's The Water Babies, and Diana Dors in A boy, a Girl and a Bike. For more information on Yorkshire Locations see Screen Yorkshire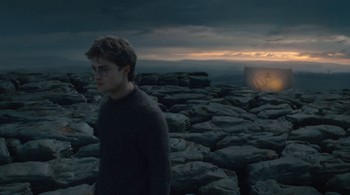 In November 2009 Malham Cove was used by Warner Bros as a location for Harry Potter and the Deathly Hallows, the crew spent several days on location around the cove and stayed in the Village at The Lister Arms, the helicopter used had the biggest camera you have ever seen!
Dark River, Ruth Wilson, Mark Stanley & Sean Bean, filmed on location at Janets Foss, Malham (2016)
The Dales - ITV
Wuthering Heights - Juliette Binoche, Ralph Fiennes, Janet McTeer, Sophie Ward (1992)
Slipstream - Mark Hamil (1989)
The Dark Crystal - Jim Henson (1982)
Another Mans Poison - Bette Davis (1951)
A Boy, A girl & a bike - Diana, Dors, Honor Blackman, John McCallum (1949)
We also have our own local talent such as William Shackleton - artist, William (Bill) Wild - blacksmith, artist and carver, David Cook - artist, Judith Bluck - sculptress, Katharine Holmes - artist, Beverley Hicks - artist and many more.
MALHAM COVE William Wordsworth, 1819.
WAS the aim frustrated by force or guile, When giants scooped from out the rocky ground, Tier under tier, this semicirque profound? (Giants--the same who built in Erin's isle That Causeway with incomparable toil!)-- Oh, had this vast theatric structure wound With finished sweep into a perfect round, No mightier work had gained the plausive smile Of all-beholding Phoebus! But, alas, Vain earth! false world! Foundations must be laid In Heaven; for, 'mid the wreck of IS and WAS, Things incomplete and purposes betrayed Make sadder transits o'er thought's optic glass Than noblest objects utterly decayed.
GORDALE William Wordsworth, 1819.
AT early dawn, or rather when the air Glimmers with fading light, and shadowy Eve Is busiest to confer and to bereave; Then, pensive Votary! let thy feet repair To Gordale-chasm, terrific as the lair Where the young lions couch; for so, by leave Of the propitious hour, thou may'st perceive The local Deity, with oozy hair And mineral crown, beside his jagged urn, Recumbent: Him thou may'st behold, who hides His lineaments by day, yet there presides, Teaching the docile waters how to turn, Or (if need be) impediment to spurn, And force their passage to the salt-see tides!
James Ward
A View of Gordale, in the Manor of East Malham in Craven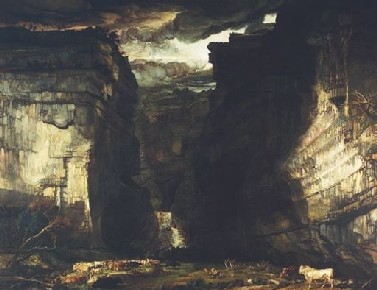 Today James Ward is remembered as a key painter in the British Romantic tradition, and certain of his paintings, such as his enormous "Gordale Scar" (3327 x 4216 mm) painted for Lord Ribblesdale in 1812-14 and shown at the Royal Academy in 1815 and now at the Tate Gallery, are among the most important manifestations of Regency gigantism and the widespread taste for the sublime. www.artdaily.com
More info from the recent BBC 1 Series, The British Isles: A Natural History Gordale Scar is at the northern end of Craven Fault, a 22- mile geological fault line which runs from the borders of Cumbria into the Yorkshire Dales. This great limestone gorge is one of the most spectacular sights in the country. It is somewhere around 15-16 million years old.
The Romantics travellers who came here were awestruck by this place. The poet Thomas Gray said he could only bear to stay here for a quarter of an hour, but 'not without shuddering'. The landscape provoked an assault on the senses, an adrenalin rush so strong that it was considered truly sublime.
Many painters thought Gordale Scar was unpaintable! They thought it almost too majestic to be compressed into a canvas. Then James Ward proved them wrong.
Ward's Gordale Scar is one of the greatest triumphs in British landscape art. Ward captured the sight that so terrified his fellow painters, in a monumental canvas 12 foot by 14 foot in size - one of the largest paintings in existence.
James Ward's childhood was like something out of a Dickens novel - his early years were blighted by poverty, his father's drinking and the cruelty of child labour. But he managed to work his way out of the gutter, emerging as a celebrated artist with a steely determination to succeed.
John Piper
Gordale Scar, Yorkshire, 1943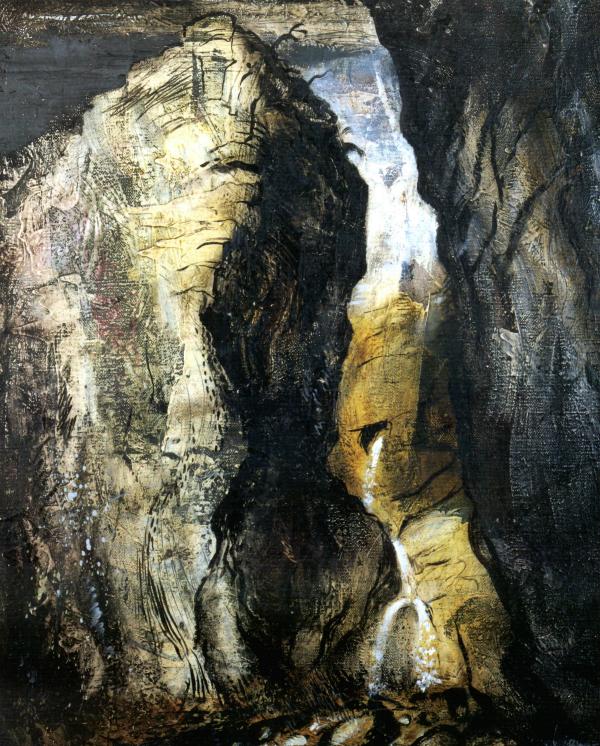 Link to great website about John Piper and his work and for details on John Piper Prints and a new book and DVD "An Empty Stage, John Piper's romantic vision of spirit, place and time."
More Malham and local interest books
Please support our links to the Amazon online bookstore as a small commision is paid to support this website for every purchase you make.