Malhamdale Brochure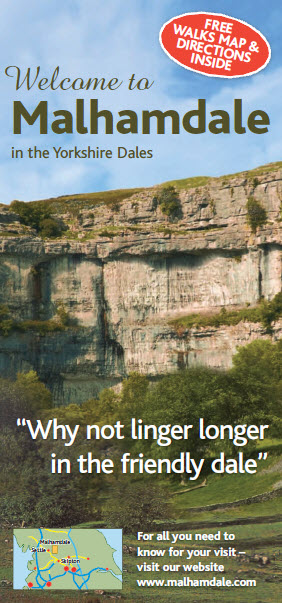 The Malhamdale, Yorkshire Dales Brochure was first published in January 2005 as a result of an initiative between local business owners and NOW updated annually. This is a fully inclusive "one stop" brochure combining facilities and attractions in the Dale with accommodation providers so that potential visitors can see a summary of what Malhamdale in the Yorkshire Dales has to offer. The brochure is provided free of charge and includes a now improved comprehensive map of local walks. The brochure is aimed at promoting Malhamdale to long stay visitors.
Brochures are available throughout Malhamdale, the North of England and at Tourist Information Centres. If you want to view Now and print your own walking map and detailed route directions please download and print both files below, the first file is the map and the second the route directions.
Malhamdale Leaflet 2016 including walking maps and local information download the Malhamdale Leaflet here
Malhamdale Walk Map A4 download the Malhamdale walking map here
Malhamdale Walks (routes for map A4) download the Malhamdale walking routes here
Why not linger longer in the friendly dale
"I won't know for sure if Malhamdale is the finest place there is until I have died and seen heaven (assuming they let me at least have a glance), but until that day comes, it will certainly do." Bill Bryson, author and former Malhamdale resident....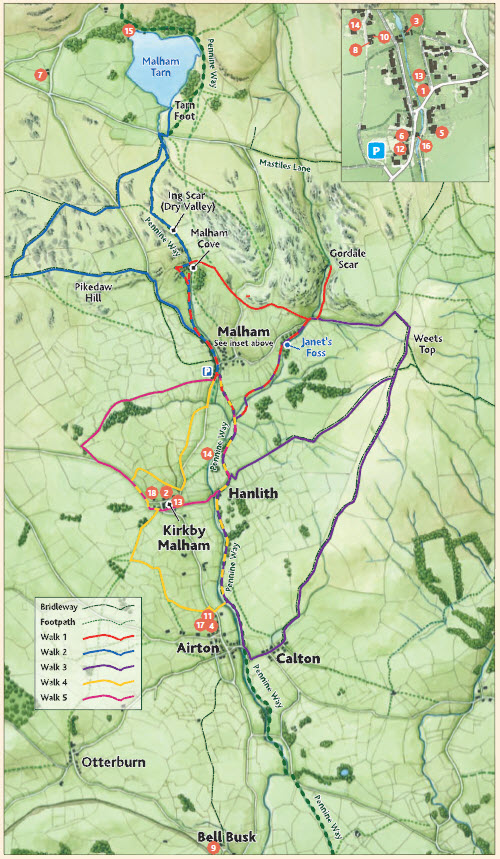 Free walking map and route directions
The brochure includes information on the full range of Accommodation, Public Houses, Cafes, Youth Hostel, Bunk Barn, Shops, Attractions and things to do in the Malhamdale area of the Yorkshire Dales and includes a selection of 5 Walks, You can see a larger version of the Malham Walking Map here or download from the links above Walk 1 Malham Landscape Spectacular 7.125kms (4.5 miles), Walk 2 Malham Cove, Dry Valley, Malham Tarn and Pikedaw 12.25kms (7.6 miles), Walk 3 Janets Foss, Weets Top, Calton, Airton and Hanlith 13 kms (8 miles), Walk 4 Malham, Kirkby Malham, Airton, Hanlith 9 kms (5.6 miles), Walk 5 Malham, Hanlith, Kirkby Malham, Accraplatts, Malham 5.9 kms (3.6 miles).

Supported by UnLtd a charity which supports social entrepreneurs - people who have the ideas and the commitment to make a difference in their communities. We do this by providing a complete package of funding and support, to help these individuals start up and run projects that deliver social benefit. In doing so, we aim to foster a positive environment for social entrepreneurship in the UK.
For bulk orders of the brochure or to Advertise your local business in our Brochure please contact Chris Wildman Tel: 01729 830902 or Call in at Town End Farm Shop, Airton and ask for some.