Malham Climbing and Caving
Climbing around Malham includes greats like Malham Cove, Gordale Scar, High Stoney Bank, Yew Cogar Scar, Great Close Scar, Attermire Scar, and only a few miles away in Wharfedale, Kilnsey Crag.
If you know any other malhamdale related climbing info, route guides, good links, famous climbers, articles, photos or anything to improve this page please let me know...
NO ABSEILING & NO CAMPING at any time!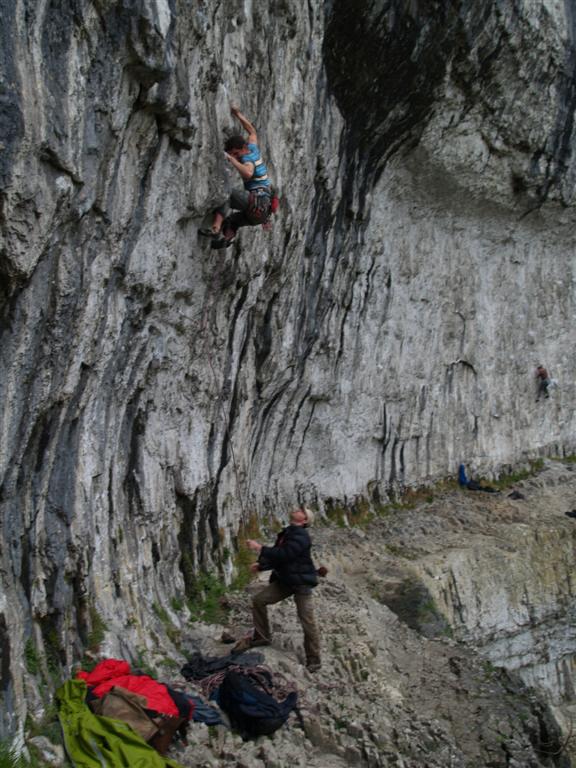 Malham Cove gr 897642 OS Map: 98
Some brilliant limestone climbing, traditional and sports routes galore. Central Walls of steep compact limestone with the best sport climbing in the Pennines (best grades F7a to F8c). A right wing of superb trad lines with the best routes in the HVS to E4 category. A left wing with worthwhile short,easier routes (S to E1) and short technical but less popular, hard trad up to E5. [Dave Musgrove]
Yosemite Wall, Raindogs, Lower Right, Cadenza, Obsession, The Terrace, Carnage and the Right Wing to name a few, all specific areas with many trad and sport routes within each area. Check out the Rockfax website for specific route information.
The BMC also have Information and Access Notes for Malham Cove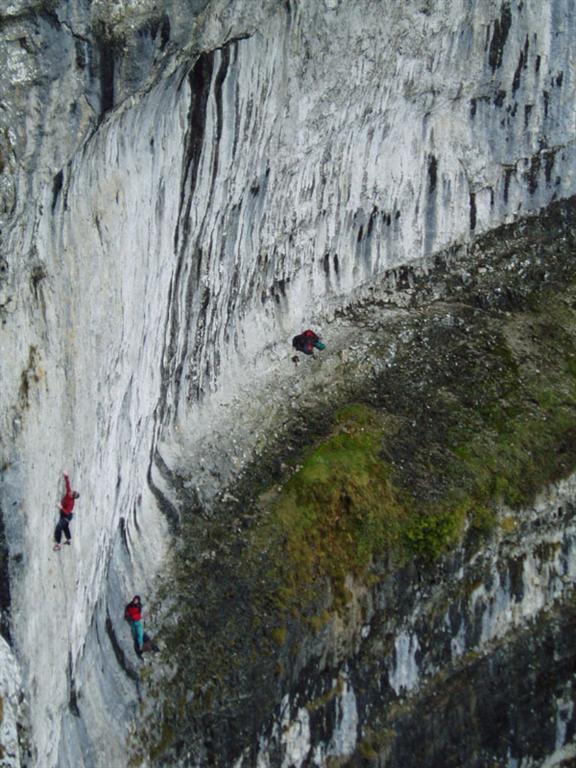 Please note NO CLIMBING 1st March to 30th June most years on the Left Wing due to birds nesting. The Land and face of the Cove are Private Property, Please Respect The Cove, NO PARKING ON COVE ROAD, NO ABSEILING & NO CAMPING at any time! please use the campsites in Malham.
NEWSFLASH MARCH 2009 Chris Sharma at Malham, big news in the world of climbng, an internationl climber, probably number 1 or 2 in the world at the moment comes and tries one of Steve Mclure's routes at Malham Cove and thinks it's good! worth coming back for! this means a lot to british clmbing. See full article on the UK Climbing website.
Steve Mclure climbing Overshadow 9a+ on Malham Cove, Interesting article on the new route and the photography and subsequent publicity in the national press by Keith Sharples ... Steve Mclure Climbing Overshadow 9a+ on Malham Cove.
Steve Mclure climbing on Malham Cove on YouTube Great Video of Steve Mclure Climbing on Malham Cove.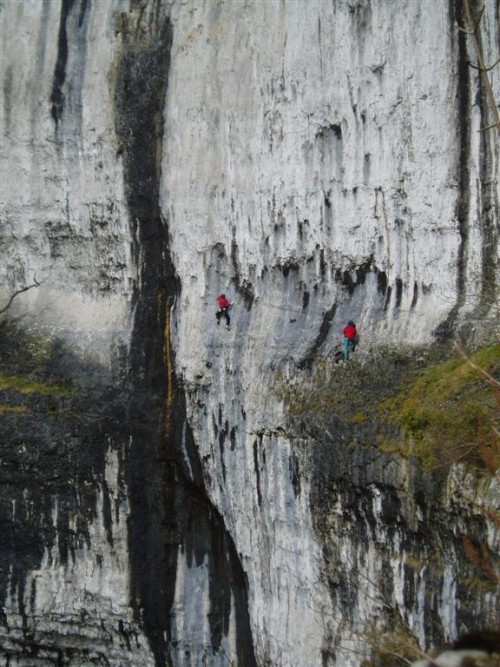 Malham related climbing links:-
Cave Rescue Organisation 75th Anniversary
rockclimbing.com , Great climbing site with more Malham Cove climbing info.
The BMC, The British Mountaineering Council.
Rockfax, detailed route information.
Climbonline New routes, bolting info and route photos.
Climbing books and guides :-
2008 Yorkshire Dales Green Climbing Guide, produced in partnership with The Yorkshire Dales National Park Authority, Natural England, and The RSPB, this updated edition of the popular conservation guide illustrates the conservation features, crags, and habitats of the Dales. Printed copies are also available at National Park offices, regional climbing walls and retailers, and also from The BMC office.
Yorkshire Limestone, A Climbers Guide, Yorkshire Mountaineering Club, Edited by Dave Musgrove.
Northern Limestone, Alan James, Mark Glaister, Chris Craggs, covering the best trad and sport limestone crags in the Peak District, Yorkshire and the South Lakes.
Malham related caving and public Caves:-
Local caves abound and include Pikedaw Calamine Caves, Grizedale, Attermire, Watlowes, Langscar, Comb Scar, Malham Tarn Pot, Pigeon Cave, Greygill Hole, Janet's Cave, Great Knot Pot, Gordale Caves, Great Close Scar Cave, Moor Close Gill Cave, Chapel Cave, Scaleber Cave and Breeches Pot all require access permission, caving experience and specialised equipment but we also have some fantastic show caves on our doorstop, White Scar Caves near Ingleton and Ingleborough Cave in Clapham.
CRO Cave Rescue Organisation.
Leeds Wall Leeds Climbing Wall.
Inglesport Wall Inglesport Climbing Wall, Ingleton.