Appletreewick's batsmen then took the field with trepidation to face the bowling of the fearsome Rocky who was obviously not used to the variation (of mud) in the pitch, and was soon dispatched for a six by home captain Doctor James. The match then went to the wire with one ball to play, and a six needed to force the draw. The umpire correctly adjudged Malham's last ball to be a no ball, and the next ball was duly hit for six, giving an honourable draw.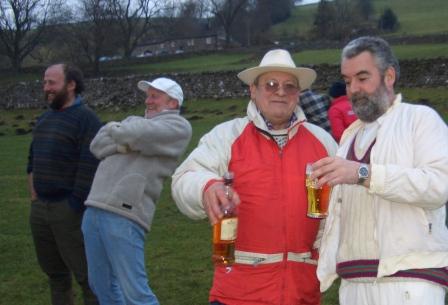 70 people were counted watching or playing cricket on a freezing cold day in January. Where were The Real Emmerdale cameras? This was possibly more than Yorkshire CCC get at Headingley! The crowd was amazingly swelled by a group of Lancashire cricket enthusiasts, who had traced this annual event on the Malham website, and came to spectate.
Everyone then returned to the New Inn to warm up, and enjoy the supper provided by John Pitchers, and a victory for the home team at dominoes. At 7pm the by then, merry men of Malham were rounded up for their bus tour to drink the remains of the beer kitty, back at Malham.
And Rocky - just a pussy cat really, last seen cosying up to Appletreewick's past captain Steph Fawcett!
Peter B Weatherhead, Appletreewick
The Malham version of events is very similar, but Malham Won!, CMW
Yorkshire Post Report on Malham v Hartlington Match 13th July 2006 - Leather on willow in green fields of Malham by Chris Berry