Geocaching in the Yorkshire Dales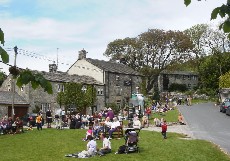 Geocaching is like a treasure hunt with the aid of GPS devices or even an iPhone to locate hidden caches placed in specific locations, these can be found with the aid of clues, a map and coordinates. Once found some caches include visitor books (logs) and certain items that you can identify to prove you have found the cache. Caches are usually in waterproof boxes like a sandwich box. Over 800,000 geocaches are hidden worldwide and we have lots hidden in the Yorkshire Dales. A good excuse to get out onto the hills and fells, why not check out some of the gecaching websites below and start hunting.
The Yorkshire Dales National Park have installed a computer at the Malham National Park Visitor Centre where you can find out more and get the clues and coordinates for local caches, you can also borrow the GPS equipment from the centre.
Geocaching Links:-
If you want to add your cache or you have more local geocache info please e-mail us