Gordale Scar
Gordale Scar is a huge gorge and its true size is only visible once you walk through the field and Gordale campsite (see photo below) alongside the beck and turn the corner into the Scar itself. gr 916641 OS Map: 98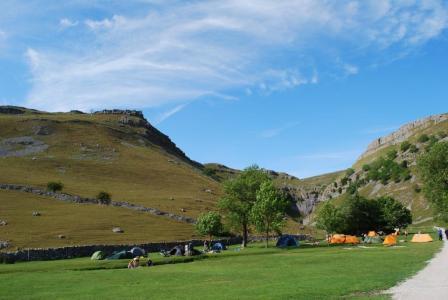 Photo copyright © Chris Wildman
Gordale Scar was created during the Ice ages, melt water creating a cavern that eventually collapsed to create the waterfall and gorge you see today including smooth rocks formed by Tufa deposits.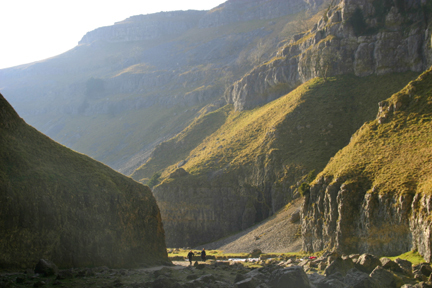 Photo copyright © Peter Sharp
Access: Open all year, a good footpath leads from the road into Gordale Scar and a steep climb leads up to Malham Moor and then on to Malham Tarn (note very limited parking is available at this location you may be better parking in the Yorkshire Dales National Park Authority Car Park or in the village and walking up through the Janet's Foss footpath towards Gordale Scar).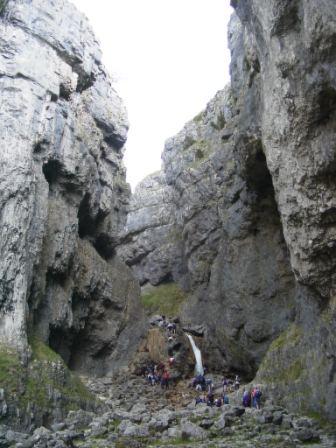 Photo copyright © Chris Wildman
Size: Gordale Scar is a huge gorge and its true size is only visible once you turn the corner into the Scar itself.
A waterfall flows down through the scar, see photo, you can climb up this waterfall (footpath to and from Malham Tarn) on the dry left hand side with the exception of after heavy rainfall when access is limited but the waterfall becomes even more spectacular.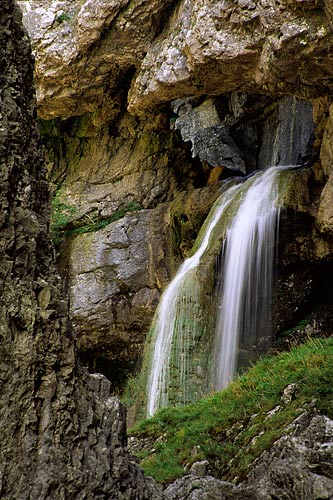 Photo copyright © Paul Heaton Photography, more photos like the waterfall at Gordale Scar above on the fotocraft images website.
Gordale Scar has been the source of inspiration for many works of Art and Literature and features in many walking books.
Limestone and Tufa are features of Gordale Scar and surrounding areas with the Tufa forming on the limestone rocks, Tufa is formed by calcium carbonate rich water precipitation. Limestone Clints (the blocks of limestone) and Grykes (the gaps) creating a unique wildlife habitat or micro-climate for rare wild flowers and ferns such as wood sorrel, Herb Robert, Green Spleenwort and Wall Rue.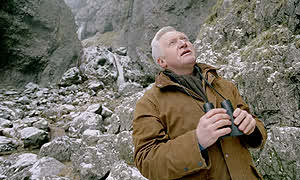 More info from the recent BBC 1 Series, 'The British Isles: A Natural History' Gordale Scar is at the northern end of Craven Fault, a 22- mile geological fault line which runs from the borders of Cumbria into the Yorkshire Dales. This great limestone gorge is one of the most spectacular sights in the country. It is somewhere around 15-16 million years old.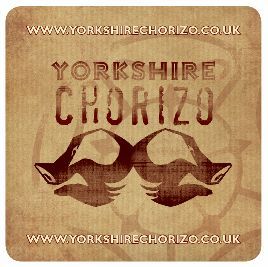 If you watched One Man & his Campervan on BBC2 why not try some Yorkshire Chorizo, you can order from the Yorkshire Chorizo website here
One Man and His Campervan with Martin Dorey was filmed at Gordale in the Summer of 2010 and will be shown on BBC2 during February 2011, One Man and his Campervan at Gordale Scar
Peregrine Falcons make the Scar their home.
Limestone Pavement Action group, website contains some very good limestone pavement specific information for further study.