Janet's Foss
Janet's Foss is a small but wonderful waterfall and pool near Gordale Scar in Malhamdale, nestled in a magical wood along the footpath from Malham Village toward Gordale Scar.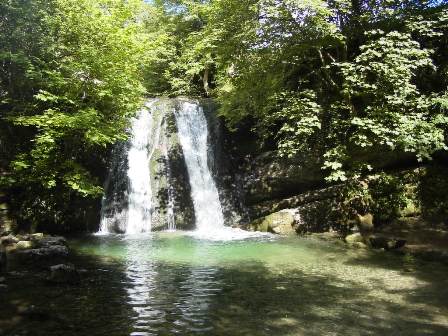 Location: Janets Foss gr 912633 OS Map: 98, The footpath from Malham starts from Malham Smithy, over the small clapper bridge behind the Smithy with Miresfield Farm B&B in front of you then turn right along the side of the beck, through a few fields and kissing gates and into the wood. The footpath follows Malham Beck and during summer you can smell the wild garlic in the wood, you may even pass a money tree!. Stop and admire the Foss, paddle or even swim or at least let the dog have a splash. The footpath then continues past the Foss onto the road and right towards the Tea Van and then through the campsite on to Gordale Scar
Access: Open all year, please note parking is available in the Yorkshire Dales National Park Authority Car Park in Malham village.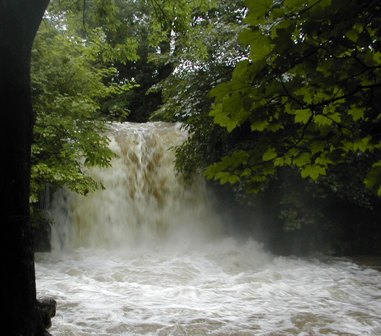 Janet's Foss has been used as a natural sheep dip for local farmers, a location for family swims and celebrations and may even be the home of Jennet the queen of the fairies in a cave behind the falls or another small cave to the right
Janets Foss and the walk from the village features in many walking Books.
The waterfall itself features Tufa deposits forming on the rocks behind the waterfall, Tufa is formed by calcium carbonate rich water precipitation.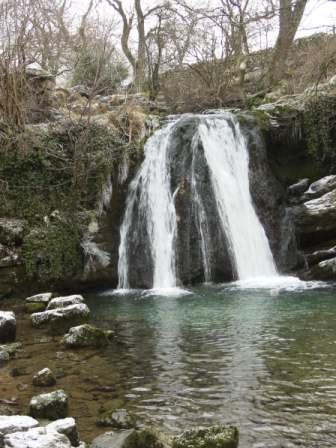 Limestone Pavements are a feature of the surrounding areas with the Clints (the blocks of limestone) and Grykes (the gaps) creating a unique wildlife habitat or micro-climate for rare wild flowers and ferns such as wood sorrel, Herb Robert, Green Spleenwort and Wall Rue. see Geology page for further information
Limestone Pavement Action group, website contains some very good limestone pavement specific information for further study.
On the footpath to Janet's Foss a couple of tree stumps have become home to hundred's of lucky pennies, add a coin and make a wish with Jennet the queen of the fairies...