Kirkby Malhamdale Parish Council
Malhamdale Visitor Traffic Management Plan
Malhamdale Traffic Management Plan Public Meeting Public Meeting Summary
Kirkby Malham Parish Council Visitor Traffic Management Plan public meeting, Malham Village Hall, 25th October 1.30-2.30pm and 7-8pm.
Kirkby Malham Parish Council is looking to develop a Visitor Traffic Management Plan for Malham. The Plan will make recommendations to address the current traffic and parking issues faced by both visitors and residents in Malham, being mindful of the needs of residents and businesses, while also supporting the desire to welcome visitors to the area.
Malhamdale Resident Questionaire Resident Survey
Malhamdale Business/Employee Questionaire Business Survey
Malhamdale Visitor Questionaire Visitor Survey
Overview
Kirkby Malhamdale Parish Council (KMPC) is a combined Council incorporating the Parishes of Malham, Malham Moor, Kirkby Malham and Hanlith. Kirkby Malhamdale is a small but vibrant rural community in the Yorkshire Dales National Park. Malhamdale is set in spectacular limestone scenery and is a popular tourism centre.
Wanted - Parish Clerk
Do you have a few hours spare per month? Would you like to help & get involved with the community? Kirkby Malham Parish Council is looking for a new Clerk, duties include circulating the agenda, minutes and writing the occasional letter/email.
Interested?, please do get in touch by telephone 01729-830529 or email.
e-mail Kirkby Malham Parish Council.
Your local Councillors are :-
Malham
Mr Neil Heseltine, Mrs Annabelle Bradley, Mrs Carol Newhouse & Mrs Joyce Thacker
Kirkby Malham
Mr Chris Wildman (Chair) & Mr Phill Dewhurst (Act Clerk)
Malham Moor
Mr Tony Bullough & Mr Mark Throup
Hanlith
Mr Pat Wherity (Treasurer)
Contact the Parish Council:- The Clerk to KMPC, The Rookery, Kirkby Malham, SKIPTON, BD23 4BX
e-mail Kirkby Malham Parish Council.
Parish Council Meetings
Meetings are held on the first Monday of the month in Malham Village Hall commencing 7.30pm with the exception of Bank Holidays when meetings are held on the following Monday. All Parishioners and residents welcome to attend.
If you would like an item adding to the agenda or you have any public questions to raise at a Parish Council Meeting please forward these to the Clerk to the KMPC.e-mail Kirkby Malham Parish Council.
Minutes of meetings, agenda and associated documents are displayed on the Parish Noticeboard in Malham Village and are available from the Parish Council Download page here Kirkby Malham Parish Council Minutes.
Lengthsman
Funds raised from donation boxes are used for the general upkeep of the Village, for example grasscutting, bench maintenance, toilet maintenance & supplies, signage, Village Green and Parish Land maintenance
Community Emergency Plan
A sub committee has been formed to develop and produce a Community Emergency Plan.
New Noticeboard - Kirkby Malham
The new Noticeboard on the Parish Hall in Kirkby Malham fitted February 2017
Malham Village Enhancement Project
More information on the Leader Funded Malham Village Enhancement Project
Signpost Project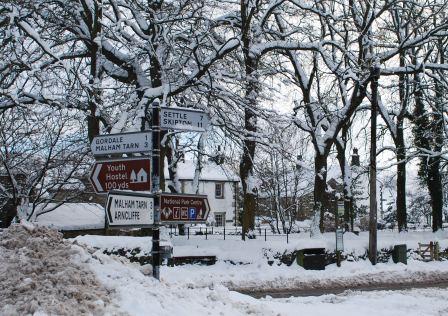 The Parish Council and Malhamdale Inititative are looking at the possibility of replacing some of the very urban signage present in Malhamdale with signs more in keeping and traditional to our location. We have submitted a LEADER bid for funding and new OLD signage is being designed.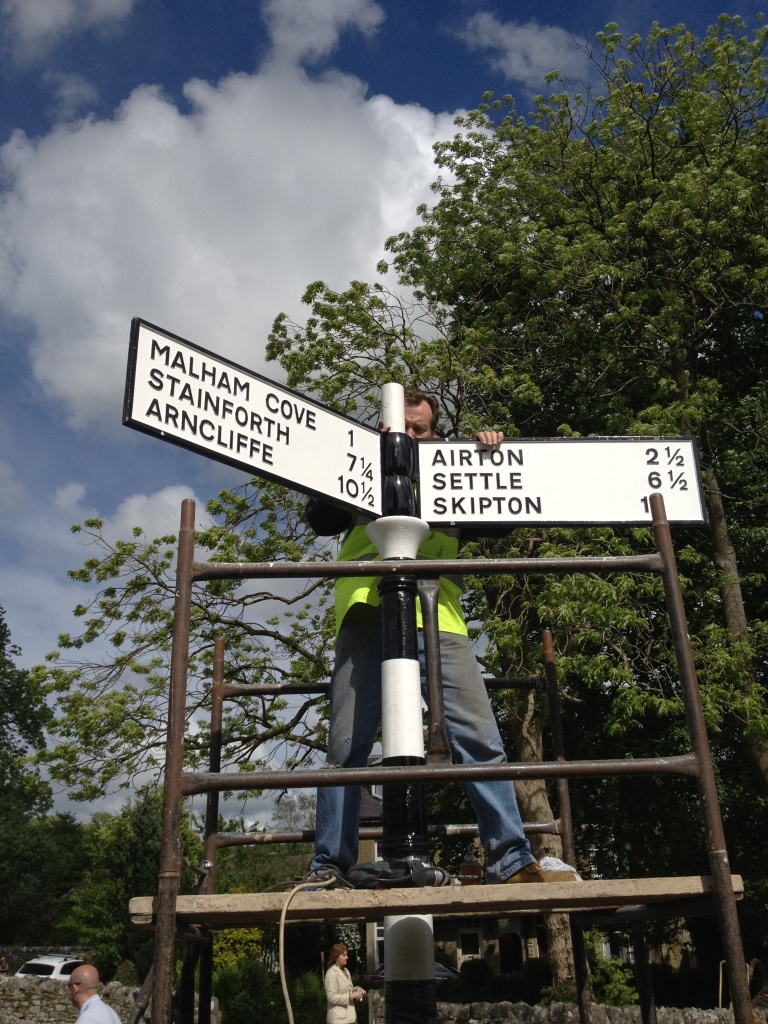 The new Malham Village Signpost
Post Office Clapper Bridge Project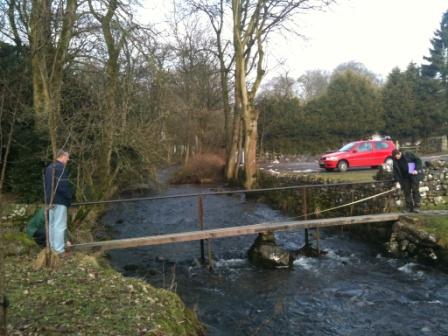 The Parish Council and Malhamdale Inititative are also looking into the refurbishment or rebuilding of the Post office clapper bridge in Malham, we have applied for LEADER funding and YDNPA have promised help and some funding to adopt the path as a footpath and to install a new traditional footbridge with a decorative handrail made by our local blacksmith. Watch this space - we hope to start installation in early 2012.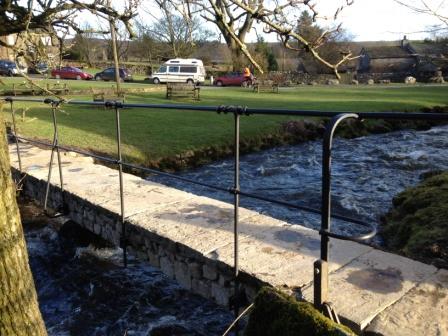 The new Post Office Clapper Bridge & Sheep Dip Railings
Malham Public Toilets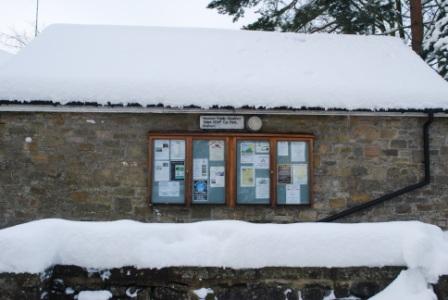 In April 2006 Craven District Council decided to close the very run down and unmaintained Public Conveniences (Toilets) in the centre of Malham village. These are now run by the Parish Council and have been repaired to an acceptable standard. Various fundraising activities are in place to maintain and keep these facilities open, if you have any suggestions and improvements for these facilities please contact the Parish Council.
Kirkby Malhamdale Lengthsman
A Part time Lengthsman is now employed by the Parish Council to complete a range of jobs including, Grass Cutting, Bench, Fence and Wall maintenance, Toilet cleaning and maintenance. Various other projects and improvements are planned as funding allows.
Noticeboard
As part of the Lengthsman Project a Noticeboard has been erected on the Public Conveniences in the middle of Malham and advertising space is let to local businesses and services to raise funds towards the cost of the Lengthsman. The noticeboard is well located in the centre of the Village and generates considerable interest from our large visiting tourist population. Please contact Chris Wildman if you are interested in placing an advertisement.
Village Green
Ongoing Village Green maintenance and development