Mums, Dads, Grandparents, bring the family, in half term, to visit Malham in the heart of the Yorkshire Dales. See the imaginitive displays, including dinosaurs and animals.
Find all the hidden Guitars around the village.
Buy a Safari trail quiz sheet, stroll around the village and find the answers to the clues.
Please enjoy the hospitality of the local Cafe's, pubs and shops.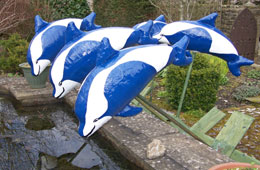 It promises to be a great week so come along and join in the fun.
WINNERS 2011
QUIZ - Francesca and Ethan Mahoney of Blackburn - who win £100
GUITARS - Thomas Herd of Hebden - who wins £50
(There were 82 guitars).
Proceeds from the Safari will be distributed between Kirkby Malham School, Kirkby Malham Church and Malham Chapel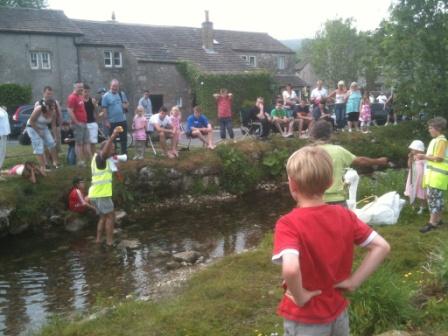 Just a short note to thank all the people who had created the Malham Safari. We spent a fabulous day on Tuesday exploring your village and eating delicious cakes and burning them off on safari. My two daughters and I enjoyed the whole day and were most impressed by the Boxing Kangaroo and synchronised dolphins. We will make sure we attend next year's event. Once again thanks to all involved. Catherine, Heather & Lily Burscough