Walking around Malham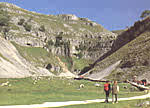 The countryside around Malham is beautiful, there is no other word for it. We've included directions for a basic circular walk here.
More detailed information on walks around Malham can be found at the National Park Centre. They have a leaflet there called Malham Landscape Trail, which is essentially this walk, but in the reverse direction. The leaflet is excellent, and includes detailed map, directions, drawings, information and sketches of items of historical and geological interest.
There is also a leaflet called Malham Village Walk, which shows a nice short (1 hour) circular walk around the village itself, complete with historical details.
The Malhamdale Brochure also has details of five Walks, Walk 1 Malham Landscape Spectacular 7.125kms (4.5 miles), Walk 2 Malham Cove, Dry Valley, Malham Tarn and Pikedaw 12.25kms (7.6 miles), Walk 3 Janets Foss, Weets Top, Calton, Airton and Hanlith 13 kms (8 miles), Walk 4 Malham, Kirkby Malham, Airton, Hanlith 9 kms (5.6 miles), Walk 5 Malham, Hanlith, Kirkby Malham, Accraplatts, Malham 5.9 kms (3.6 miles).
More detail on these Classic Malham walks available here Malham Walking Map